Driver-less Cars!?
Life Is a Self-Driving Highway
Will Americans be able to adapt to the autonomous car?
This article arises from Future Tense, a collaboration among Arizona State University, the New America Foundation, and Slate.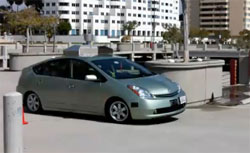 Over the past 20 years, cultural psychology research has confirmed what pop-culture purveyors and marketers have long suspected: that what defines American culture is an emphasis on independence, autonomy, and choice. We belt out songs like Frank Sinatra's "My Way" and patronize restaurants with slogans like, "Have it your way, right away." While we embrace our unalienable rights, we abhor the value that other cultures place on collective conformity and obedience to authority. After the 2008 Beijing Olympic Game opening ceremony, for example, Americans collected stories about how the Chinese participants in the ceremony were expected to sacrifice for the collective, wearing adult diapers and enduring heatstroke so the nationalistic show could go on....

This American emphasis on the individual's sovereignty poses a problem for new technologies designed precisely to deny personal agency. Autonomous technological agents—from military drones to the self-driving car—are increasingly prevalent. Their potential benefits and conveniences are immense. Yet as the currently cutting-edge becomes commonplace, these technologies could bump up against the prized American autonomy.